Akord Stories
When we all Dedoco our documents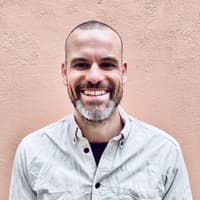 Pascal Barry
5 Oct 2022 · 4 min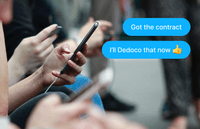 Reaching product-action fit
Some actions are so fundamental to our lives that we end up using the name of the product or service to describe the action itself.
I'm sure you've Whatsapp'd someone, or told a friend you can easily 'Uber it' to this or that place. When your product takes the action itself in people's minds, you could say you've achieved Product–Action Fit, your formal status as a verb has been reached.
In web2, one of the companies that's achieved Product–Action Fit is Docusign. You've probably told your lawyer, boss/employee or landlord that you'll 'Docusign' the contract or agreement later that day, and it is here that Dedoco's disruption of traditional document management workflows has begun.
As the decentralised version of Docusign, when you hear the word 'Dedoco' in the future it will mean digital signatures in the new paradigm of data ownership, ushered in by web3.
However, if you dig a little deeper you may in fact find that Dedoco is evolving itself into something closer to a noun…

Dedoco's engine of trust
Dedoco has become well known in the APAC region for enabling a more secure and verifiable way to digitally sign electronic documents. By recording a document's chain of custody on-chain, they are enabling a significant shift for organisations – allowing them to become 'document-centric' vs the more traditional 'system-centric' approach that formed the bedrock of web2.
The impact of creating this network of trusted, connected and verifiable documents is that the company is positioning its technology as the foundation for a whole ecosystem.
Businesses and other applications will be able to plug into Dedoco's 'engine' and execute many different document management workflows within a web3 enterprise context. The use cases include:

proof of originality

version checking

proof of acknowledgement

proof of status

proof of ownership

agreement management

proof of issuance.
Dedoco's vision has always been that the platform remains agnostic to how an organisation wishes to manage their documents, putting data residency and ownership front and centre for partners and customers.
By providing a layer of trust at the data layer, as opposed to the system layer, other technologies and services can access their engine and reap the benefits – most notably providing an easily accessible bridge for web2 organisations looking to leverage the very best of web3 capabilities and outputs.
So where is all this leading to? Perhaps the creation of a noun in the not too distant future – a trusted document category known simply as a 'Dedoco'.

If trust for you looks like getting immutable, verifiable documents – fantastic. That's what we can enable for you. But then if that next level of trust that you require is that this document also needs to be permanently stored and there needs to be trust with third parties by sharing that information, that's where that Akord layer comes in.
~ Jason Williamson, Head of Growth & Strategic Partnerships, Dedoco
X Akord
Our partnership with Dedoco is a two-way collaboration – both Akord's and Dedoco's users will benefit from the value and features of the other's platform. As consumers start to appreciate the risks in storing sensitive documents with third party SaaS solutions, we believe the demand for more private and secure storage alternatives like Akord will evolve.
The issue that remains is that trust in the document may be lost when it is shared at a later stage for a signing or approval process. Dedoco provides the perfect complementary solution by ensuring the digital trust is captured in a decentralised manner – and so our integration strategy was born.
From the file menu in Akord, users can see the option 'Send for signature'. Selecting this option will take you to Dedoco's platform where your document will appear, ready to be set up and sent out for signing.
We can realise incredibly secure workflows where legal documents are uploaded directly and versioned in Akord, each version protected by end-to-end encryption and stored permanently on Arweave, and then sent for signing with Dedoco. At no point is the document exposed to the risks inherent with web2 centralised cloud services.
From the other side, users starting out in Dedoco will soon have the option to 'Save to Akord' at the end of the signing process. This will offer Dedoco's extensive clients in business, finance and government the ability to permanently store their most valuable docs, paying a one-time fee for the additional security and simplicity Akord provides over other web2 competitors.

Project status
The first release of this collaboration, the 'Send for signing' feature, is now live on v2.akord.com. The next step will be to integrate Akord as a storage option within Dedoco, empowering Dedoco's enterprise users with the ability to store their signed documents on Arweave.
You can access this feature by going to the file menu on any uploaded pdf: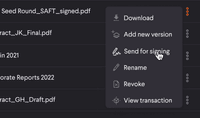 In the future, we'll be exploring how Akord can integrate with Dedoco's engine of trust to help unlock other benefits for Akord's users, features such as proof of ownership and issuance. We'll also be working with Dedoco's DeLabs – their web3 business integration studio – offering Arweave specific expertise and helping businesses integrate and build with the Akord protocol.
You can listen to the episode of Striking Akord with Dedoco, where we discuss many of these topics, on the Arweave app Permacast or on Spotify.