Product & Tech
Branding your own startup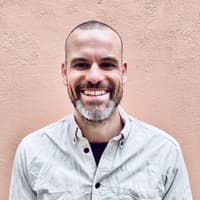 Pascal Barry
16 Dec 2020 · 9 min read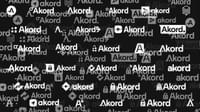 Designing For Others
I've spent a large part of my career working on or creating brands for other people. This year I had the unusual experience of being my own client, as it were, while working on the Akord brand. Creative freedom with no one telling you to make the logo bigger, this is every designer's dream, right? Well, I won't lie, it was pretty great.
Initially, though, I was almost dreading undertaking the work and considered outsourcing it. It felt like it would be too much pressure, that I would be too closely invested to be able to step back and make good decisions.
When you create a brand for another company, even though your name will be attached to that work and you strive for the best outcome, you won't have to work with that brand day in and day out for potentially many years to come. In that sense, there's a liberating distance from your work. When it's a company you've co-founded and now you're designing the brand you'll have to work with on a daily basis, there's suddenly a lot more pressure to get it right.
I started to think of the 'client' as our small team, which helped reframe the project. I work with three others and part of the unwritten brief to myself was to create a brand we could all be proud of and that captured our values. I also imagined working for future team members, knowing how powerful a strong brand is in attracting talented people to a company, and how it can give people a sense of pride to be part of that story.
I've always felt that when I was consciously designing for others, telling myself things like, 'I'm doing this to help this person achieve this goal', as opposed to feeling, 'I'm doing this to advance my career/portfolio/bank balance', that the design process became a lot more enjoyable, freer easier because of it.

Branding at a Startup
An early-stage startup can go through brands like a snake shedding skins. I don't mean to suggest these startups are somehow devious or 'snakey' by doing this, but like the snake shedding its skin it's a naturally occurring event when something has served its purpose.
When branding is superficial it truly is like a skin — an outer layer that doesn't really have too much to do with the real inner workings, the heart of the operation. When branding is done right it be a visual representation of the product, values and mission, but also manifest itself through all the company's interactions with employees, customers, partners and the outside world in general.
The reality of a startup is that the first few years will inevitably be an unpredictable rollercoaster, where carefully considered business plans will be torn up, the product will pivot, and the ideal customer will change as the company is trying to figure out its product market fit. Even those startups who hire professional designers to work on the first version of their brand will find it hard to feel like they haven't outgrown it within a few years.
With that in mind, I believe the most effective strategy for branding an early-stage startup is to focus on the core values and mission to create a strong set of foundational branding assets. These foundational assets I define as logo, colours, typography and graphics (or illustrations). Other elements, such as tone of voice, I believe are better developed later on when product market fit is closer or already achieved.
These foundational assets should be broadly and simply defined, starting with a few simple rules to ensure a solid coherence runs through all work. This will allow for a certain amount of room for these assets to evolve, with the aim that the brand can adapt rather than be overhauled as the company goes through its growing pains.
Our Values
Everything in a brand should stem from its values, because that's where the vision, product and company itself ultimately all come from. The values are often the thing about a company everyone thinks they know, but when the question is posed you never get two answers that are the same. It isn't necessarily that people aren't aligned, but that there are so many different ways to describe something so subjective. People can also end up listing an endless amount of values, so it's worth prioritising or distilling a company's values down to a core set that really captures the soul.
At Akord we've captured our values in the following three points.
Commitment & Caring
We're committed to our mission, the fundamental right to privacy, and to building a company that adds real value to the world with an exemplary culture. We're committed to operating as carbon negative and creating an equitable company, caring for our working environment as well as the world outside. We are a small committed team that cares about what we do.
Quality & Craft
We aim to produce a quality product and constantly sweat the details. We adopt a learning attitude, continuously looking to improve. We believe in the power of new technologies and design — the tools of our craft.
Conviction & Confidence
We have strong beliefs. And while those beliefs mean sometimes doing things the hard way, it's also where we derive our conviction, knowing that our mission and our product will add value to people's lives. We want people to feel confident in owning their data. We want our customers to have confidence in us.
The Brand Concept: Lock & Flow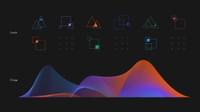 As well as the company values, the visual elements of the brand are also focused around a concept I named, Lock & Flow. I like paradoxical ideas, and these two seemingly opposed forces, locking and flowing, nicely capture the core of what we are trying to achieve with Akord.
We want to secure data, keep that sensitive information safely locked down, and at the same time we believe that work, or processes in general, can only truly flow when you have confidence that you're in a secure context. When you don't trust your tools, you never feel at ease, second-guessing what's right and using convoluted methods to try and make an effort to cover your bases.
The main graphics used throughout the marketing site and at points in the product are intended to capture the Lock & Flow idea, as well as a modern feel overall that's relevant to the technology we're working with.
We use flowing organic shapes that can morph from solid gradient colour to fine lines, as a visual representation of dynamic flow. Occasionally overlaid and for separate use, we have crosses, squares and triangles that evoke a more machine like process of locking in (as well as tracking and mapping), which relates to our encryption and internal blockchain.
The Logo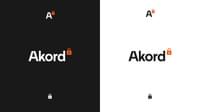 The padlock iconography has multiple meanings. As a standard representation of encryption, it's a clear, easily easily understood and constant reminder that wherever you have Akord you have encryption, end to end. We also want you to feel secure and confident whenever you interact with our product or the company in general. That little padlock on a browser tab is your marker, telling you, 'OK, here you're safe'.
The padlock has a small stylistic twist, mirroring the triangle from inside the capital 'A' as the keyhole in the padlock. This upwards pointing mark is another reminder to keep pushing onwards and upwards with everything we do. When we use just the A and padlock together, it becomes like an asterisk or star, that brings to mind an A* grade — symbolic of the standard we hold ourselves to.
The padlock is relatively small, a mark at the end of Akord, as a reference to the fact our encryption, while ever present, should never get in the way of the other product features.
The Colours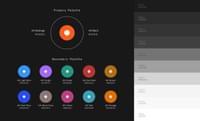 Our brand leads with a dark-mode aesthetic, which lends itself to a contemporary feeling of security and a technologically-focused product. We offset that dark mode with a bright red-orange, or 'redange', as our primary brand colour.
The secondary palette is a set of vibrant colours carefully chosen for a dual purpose. First, we assign different colours to members of a data room, and these colours are used for elements such as the speech bubbles used for when people post messages. Second, the colours capture the creativity and collaboration element of Akord, as well as enabling us to make the product more visually striking.
We also have 9 greys that range from almost black to almost white. Having a wide range of greys to draw on for product design is incredibly useful. They allow you to create subtle effects of depth and get contrast right when choosing borders and backgrounds, as well as providing another dimension to create type hierarchy. I never use opacity to create greys as you will encounter issues when elements are overlaid on colours other than white. I also like to give grey colours a slight tint of the brand colour, so they're not pure monochrome, giving them a warmer more cohesive feel with the whole product.
The Typography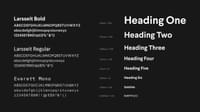 For the product and marketing website I set basic type hierarchies covering just what I need. I normally get some way into the designs before cycling back to set this hierarchy. This way I have a clear idea of what I need, then I create some framework for consistency. Setting type hierarchy before you have an idea of the needs are always seemed to me like an illusion of efficiency and an unnecessary hindrance to getting going.
I use Larsseit as the main typeface for the brand. It's a sans-serif but it has enough quirks with the double-storey lowercase 'g', 'a' and the compact 's', for example, to not have a completely cold and machine-like feel that many popular modern geometric sans-serifs have. I wanted Akord to feel current but personable at the same time.
Larsseit is supported with Everett Mono, a contemporary and versatile grotesque mono-spaced font. It's only available to purchase by contacting the designer, which is nice to know that this element of the brand is not going to be ubiquitous. The 'A' in the Akord logo is redrawn along the same lines as the Everett font. I'm in discussions with the type designer of Everett to work on a custom drawing of the Akord logotype, and this will most likely be one evolution of the brand in 2021.
The First Evolution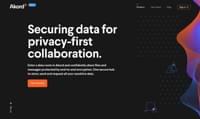 The nature of a tech startup means we could, and probably will, be in a very different place in a few years from now. In the context of a startup it's wise to establish a solid foundation for your brand but not to attempt to construct something on the level of corporate guidelines. We need to be nimble in our product development and the brand needs to be able to flex and pivot alongside if necessary.
Hopefully these core elements are strong and yet flexible enough to last longer than a few years. The relative simplicity of the logo is an attempt to hold its relevance through the early years. Likewise the concept for the graphics is sufficiently open whereby we can add and evolve those elements to keep the brand fresh and relevant.
I hope this first expression of our values and product is the first step in a meaningful relationship with our brand for our customers.