News
Akord x Dedoco – web3 digital signatures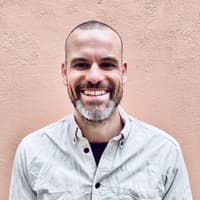 Pascal Barry
3 Jul 2022 · 4 min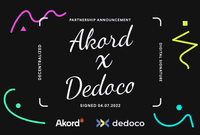 The partnership comes at the perfect time for both parties.
Dedoco recently raised funds from Web3-focused True Global Ventures 4 Plus (TGV4 Plus) Fund and a follow-on from Vertex Ventures South East Asia to support the expansion of their web3 capabilities.
On Akord's side, we continue to strengthen our offering to companies in the web3 space, and in Dedoco we see a partner who shares our commitment to core ideals such as privacy and data ownership, making them the perfect company to help us deliver this killer feature to Akord vaults.
Introducing Dedoco
Trusted by some of the largest names in banking, financial services and real estate across Asia Pacific, Dedoco have quickly established themselves as an emerging market leader for digital signatures.
The core of Dedoco's offering is geared toward providing increased data privacy and document security to its users, moving away from current solutions' reliance on centralized trust and taking custody of digital documents.
Dedoco's decentralized approach and blockchain layer allows users to manage documents on their own terms, thus supporting organizations in adhering to document security, data residency and sovereignty obligations, especially those in highly-regulated industries.

Empowering business to seize control of their data
With this integration Akord continues to further its offering to companies in the web3 space, making it possible to simplify and further secure workflows.
Akord's vaults provide private or public onchain storage, as well as team collaboration and permissions, end-to-end encrypted messaging and document creation.
In the coming weeks, Akord's Protocol will be released with a CLI, as well as a full set of developer documentation and tools. So if the Akord app does not fulfil your business requirements, we'll happily support developers and companies who want to go straight to the source.

Dedoco x Akord
By integrating with Dedoco, people with an Akord account will be able to effortlessly send any document for signature in a few clicks.
When the document is signed, the signed copy will appear in your vault as a new file version. As is standard, Dedoco will not store a copy of the document throughout the process.
In order to realise the first release of this feature, Akord will be developing an external share feature. Essentially, the ability to share a document outside of Akord while maintaining the same level of security so data is never exposed.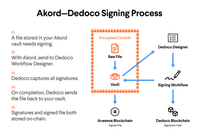 What next?
This partnership will move quickly. We plan to be on testnet this summer with a full release in the autumn.
More on Dedoco:

Get the latest news on this release and other Akord developments from our Discord: